Even though Vince and I got married almost a year ago in September, we are just now taking our honeymoon. Between school full time and work full time, it just hasn't been able to happen until now! To celebrate, we are taking a 15 day road trip from Flagstaff up to Seattle, then slowly down the coast. I will post about each day, though not necessarily on that day! I feel like breaking it up will be the only way I'll actually post about the trip because it's a lot less daunting. Some pictures are taken with the iPhone and the other with my Canon Rebel T2i. To read previous days, click here and scroll down.
On the seventh day of
Christmas my true love gave to me seven swans a swimming
vacation we were
on a boat
! A ferry boat that is. (Ok, now I'm to the point where I'm writing the days from memory, not on the day of, and I'm getting all the days mixed up and have to keep looking at the itinerary! So confusing.)
Before the boat ride, we ate breakfast at the hostel and then we walked/rode our bikes around Pike Place Market and saw all the craziness there.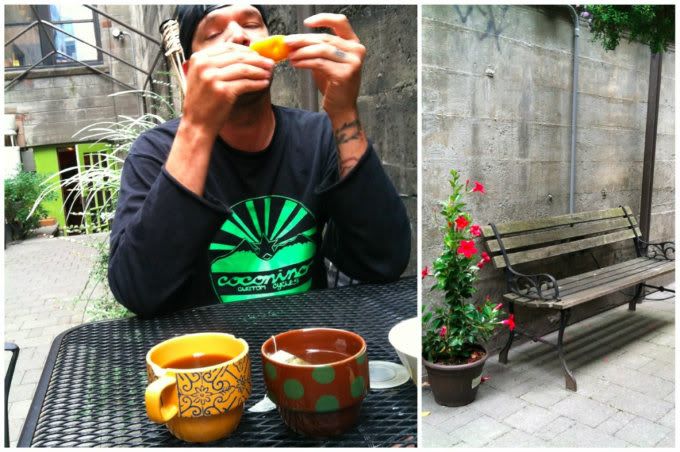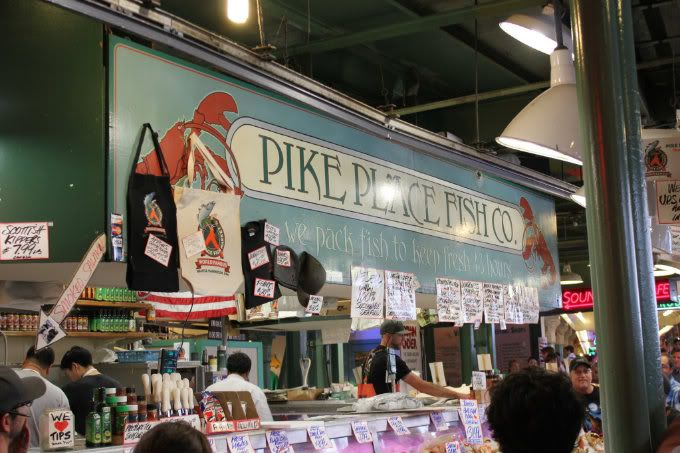 We stopped first at Cinnamon Works, a gluten free bakery, where I bought a pumpkin loaf and a blueberry muffin. I scarfed down the muffin instantly and saved the loaf so i'd have food while camping the next day. Every time I'd get a wiff of it in my backpack I'd want to eat it!
We started getting hungry so after a quick search on the UrbanSpoon app, we saw that
Pike Place Chowder
in Post Alley had a couple gluten free chowders and was highly rated.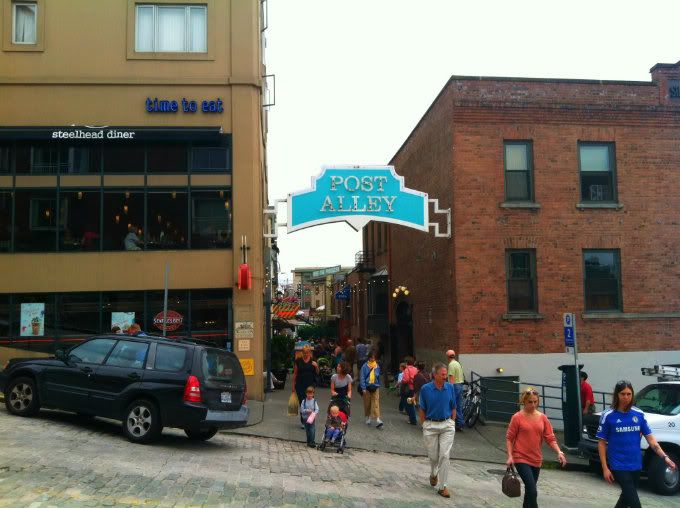 We got in line just in time because right after that it quickly grew to 30 or 40 people! That made us get excited for food. While waiting in line, I felt someone touching my tattooed arm and at first I just ignored it; I figured someone was just rubbing against me since we were all so crowded. Then I felt someone start rubbing it with more of their hand and I thought, 'What the hell. No.' So I whipped my head around ready to freak out and the guy said he recognized the art and was wondering what it was from. I became a little less defensive when I realized it was a slightly older guy with his wife, so I explained I was from a small town in Arizona and this was from a mural. Their faces lit up and they said they were from Phoenix! After explaining what building the mural was on, they remembered it, and we realized what a small world we're in.
Finally, after a while of talking, we ordered some food. The guy totally gipped us by charging me for an extra drink that was $2.50 and then saying that he already put it in the register and he couldn't undo it. Since there were a ton of people in line and I was so hungry I wanted to cry, I didn't put up a big stink and grabbed a bottle of water instead. At last, we sat down to eat our highly anticipated meal annnnnnd it was pretty bad.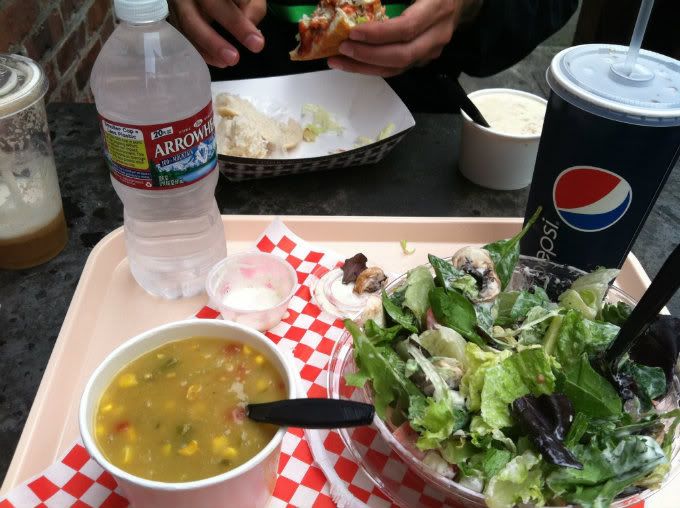 I compared my to a can of Progresso soup! For the amount of awards it's won, it really wasn't that great and Vince was highly unimpressed as well. He got a
small
bowl of regular clam chowder and a half order of dungeness crab on a roll. He said the freshly baked roll was delicious, but everything else was subpar, especially for what we paid for it. Alas, we now assume that highly rated places are typically highly rated because they are 'cool', not necessarily because they have good food!
Right after eating we rode our bikes and went to ride the ferry to Bainbridge Island.
We got to the loading zone early so we hungout for a bit, and during that time I was kind of starting to freak out because I was nervous I would get sea sick. Vince kept telling me it'd be too big to actually feel it, but my body is so sensitive I was sure I'd get sick!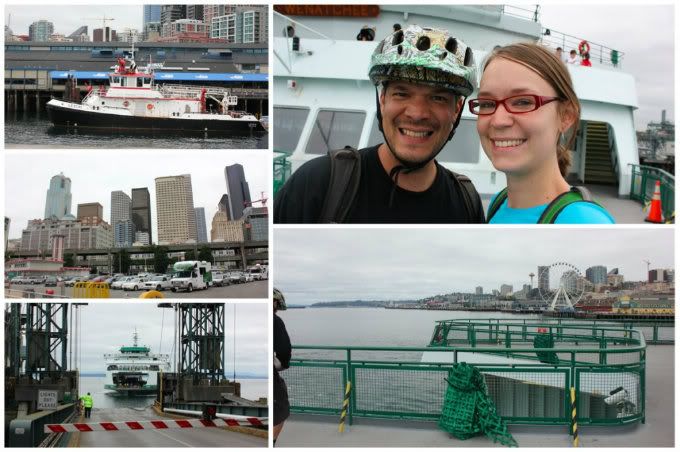 Luckily, I didn't, and I really loved it! It went faster than both of us thought but the birds could still keep up!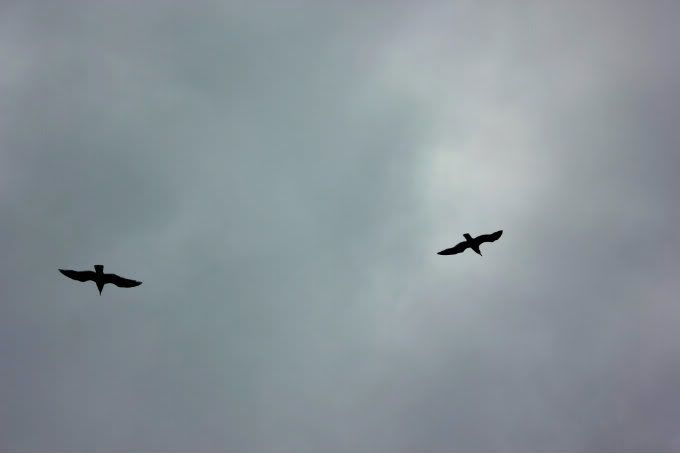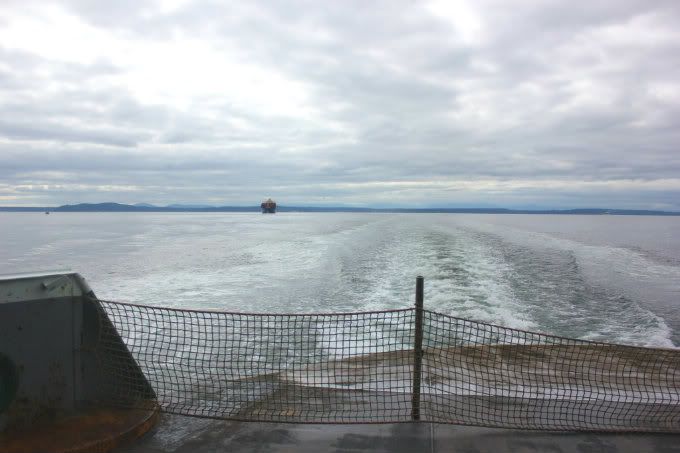 It was also chillier than we thought it would be, but luckily we had our new Patagonia rain jackets we got at the 50% off sale!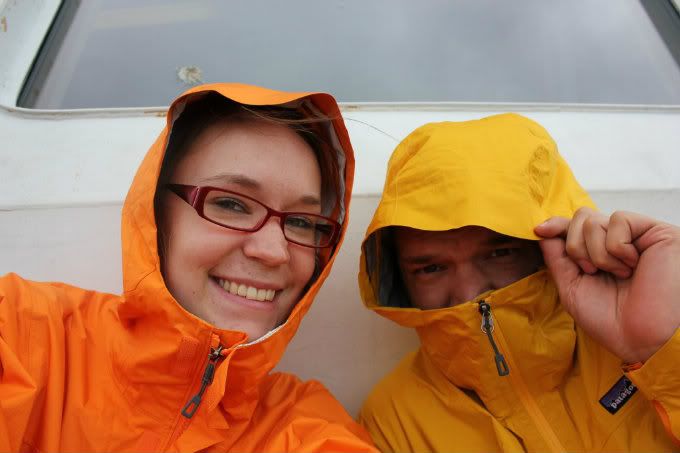 When we got to Bainbridge we stopped at a little bike rental shop to see if there was any riding around or good gluten free food. He didn't know of any riding but he did recommend a lady to talk to in town that is gluten free and knows a bunch of great places including a sandwich shop which I was really craving.

On the short ride into the downtown area there was a chalk art wall that you could decorate so, naturally, Vince drew on it.
Before heading to the sandwich shop, we walked around all the shops and relaxed for a little bit. We didn't allow ourselves a lot of time to be on the island before we had to head back to pay for more parking so we had to make the most of it! One of the best things was that I found the
yummiest gluten free cookies ever
. I bought a box from a little natural store and quickly devoured them!
Around the time we needed to head back on the ferry we stopped at the sandwich shop, Fork and Spoon. I got a BLT that also had a bunch of veggies which I ended up eating on the ferry back to Seattle.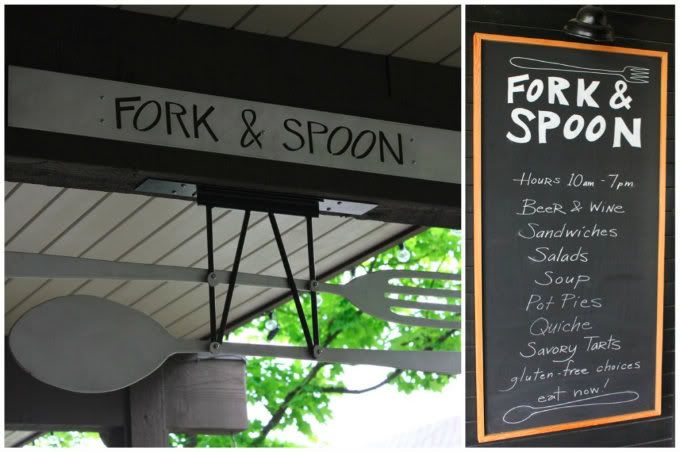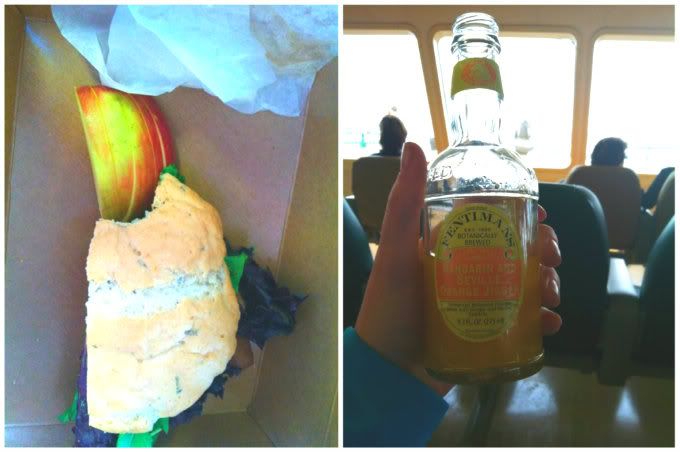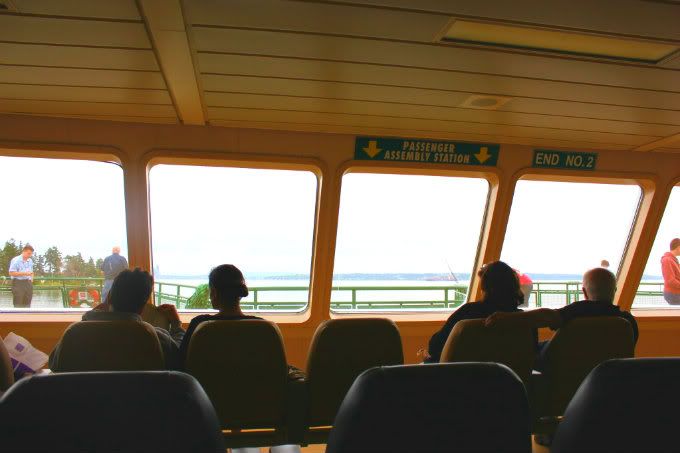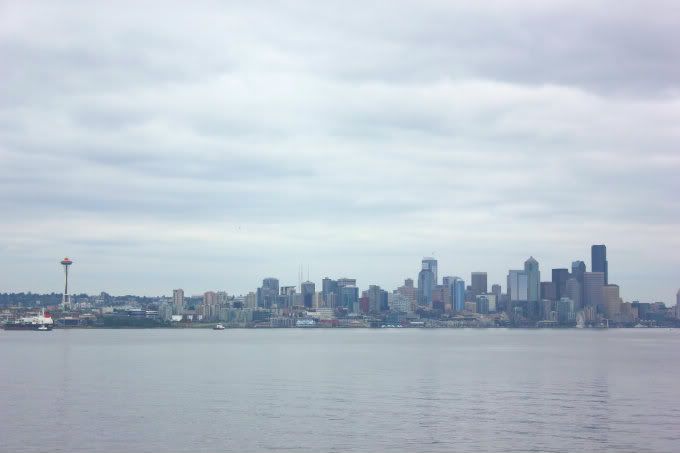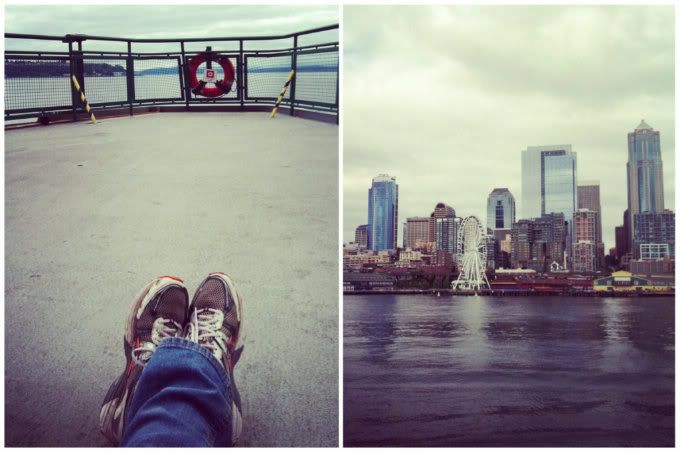 When we got back to Seattle, we quickly ran back to Pike Place Market to pick up some salmon and veggies to make dinner at the hostel.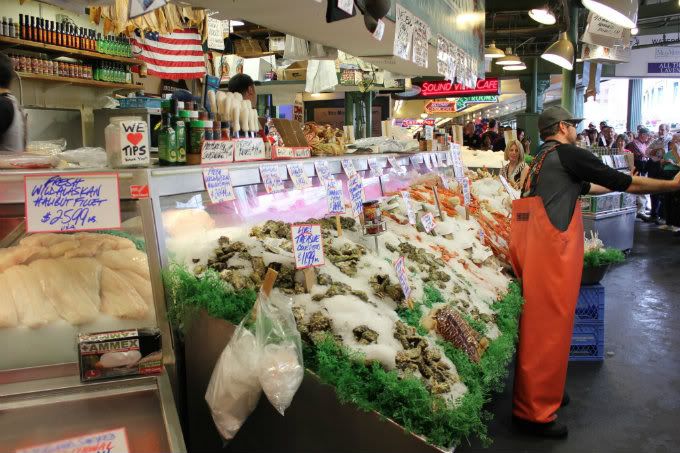 The first night there we were hesitant to cook fish because we didn't want the place to stink but fortunately a ton of people were doing it! Also, while on our way to the market, who would we see but DAVID BECKAM.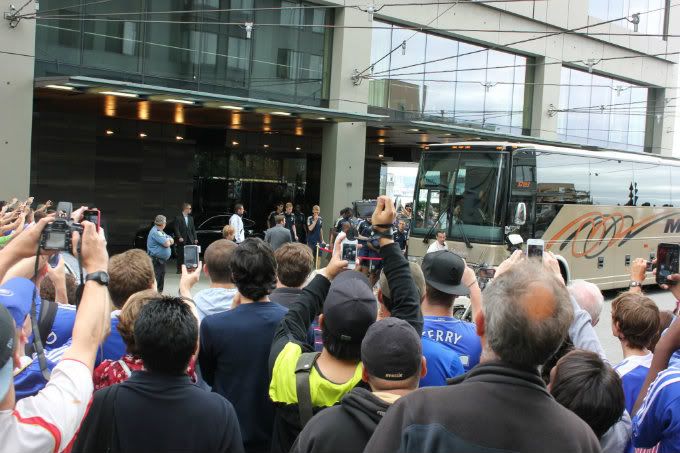 We were riding our bikes up a huge hill and I got into the left lane so that we could turn towards the market. I realized it was a one way street, however, so we couldn't actually turn. I figured I would ride up another block and turn, but again, it was a one way in the wrong direction! At this point Vince had realized that and moved a couple lanes over back to the bike lane but there was traffic surrounding me so I couldn't get back over. Instead, I just had to keep pounding up the hill and try not to back up traffic too much. But, it continued to be just one way streets! I started to completely panic because I was SO tired and my legs were on fire, I totally thought I was going to puke, and there was no way I could just get off my bike and walk because there were cars everywhere. It was in this moment that I accepted the fact that I would never win the Tour de France. Ever. At last, we finally got to a road that wasn't a one way and I turned towards it only to see a huge group of people.
We got off our bikes so I could catch my breath and we asked what was going on. A guy explained that Beckam was in town with his soccer team because they were playing in Seattle that night. Everyone was waiting for him and his team members to walk out to get on the bus. It was taking to long for Vince and I so we were about to leave when he and the others came out! I don't think I actually got a picture of him but I don't really care, it was still kind of cool to see him.
So after the market we went to the hostel and made dinner and talked to a few other guys who were from Germany that were making dinner as well.
They explained that beer is crazy expensive here but meat is crazy cheap! I understand the beer thing because they are big beer people in Germany, but he said they don't eat a lot of meat over there and that it's considered a very American thing.
Once we were finished with dinner, we went back to our room to get ready to go out.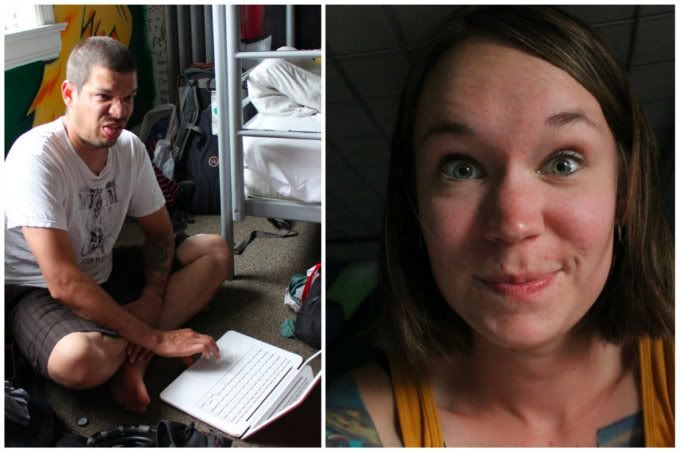 Our roommates were talking about going out as well so we just went out together! We ended up at a few different bars that were all SO different from each other. One was circus themed so there were clowns everywhere and the bathroom had creepy laughing sounds on an old ice cream truck speaker, one had so many Polynesian people that we actually felt out of place, one was so fancy it didn't even offer beer and the drink list started at $25, and the final one was our favorite, an old grunge/rock place. We stayed at the last one for a good amount of time and talked, drank, and learned Irish jigs. After a quick stop to a hot dog stand for the others we went 'home' and passed out!