Dear Mr. Barista,
I understand how hard it is to make a chai tea. It takes a lot of brain cells to tear your eyes away from those hot hipster chicks that are always taking up the booths and letting their hair feathers accidentally dip into their earl grey tea. I'm sure it also takes a large amount of brain cells to pour hot water into a cup and mix some tea powder in it to make my chai, but please, focus from now on. I ordered a large, and this is how much you filled my cup.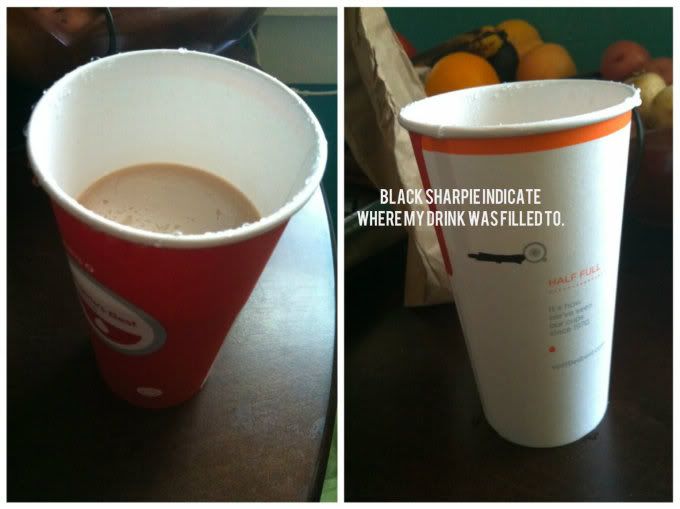 Does this look like the large I paid for? No. This is also the third time you've messed up my drink in the past week. I forgave you for not putting whipped cream on my drink, and I forgave you for giving me the wrong drink entirely because it ended up being delicious, but this? This is not cool. I paid five goddamn dollars for this drink and you gipped me of approximately two dollars. NOT ACCEPTABLE. I mean, how does this even happen? Did you get to the halfway mark, get side-tracked by the two people that were inside the entire coffee shop, and just stop pouring? Did you not notice how empty it was when you put the lid on?
No matter the reason, mess up my order again and I swear I will write a hate letter to your boss. You are not cute enough or nice enough to be messing up anyones orders, sorry. Get your head in the game, please, because your tips will be limited from me for here on out.
Love,
Me