I:
just got back from getting my hair re-cut. I realized that the girl who cut my hair last week at Aveda totally f'ed it up. There were a bunch of stray hairs she completely missed and the left side is significantly shorter than the right side. I feel like she was in a rush, but when $30 is being spent on a haircut, I feel it should be done well. So I went back today and another lady cut off the stray hairs (all the while muttering, 'What the hell did she do to your hair?' while I laughed) and I'm going to go back in two weeks to get the rest trimmed. It's already a little shorter then I wanted it so I don't want to go shorter, so I've just been pinning it back and you can't tell that it's cut wrong!
I am enjoying:
the breeze coming through all my open windows with my dog sleeping on my legs.
I am listening to:
Cat Power. Thanks to
Patricia
and her
Music Monday
post I am now addicted to Cat Power and question how I've never heard of her before. Some of my favorites are Metal Heart,
Wonderwall
(cover) and
I Don't Blame You
. I love females with strong voices (Madeleine Peyroux, Amy Winehouse, Ani DiFranco) so this is another great one to add to the list of artists that speak to my soul!
I am eating:
chocolate chip muffins. My sister bought me some more goodies and I'm enjoying them slightly warmed up with a ton of butter!
I love:
my niece. It's absolutely freaking mind-blowing to see how much she grows in between the times I see her. When I unbuckled her from her car seat today SHE CLIMBED OUT BY HERSELF. Geez, I was not prepared to see that tiny little body get herself out of the car! She also found a glove of Vince's and new exactly what it was for and put it on and waved at us, saw a baby at the library and yelled, 'Baby!!', and is waving and saying 'Bye' to people.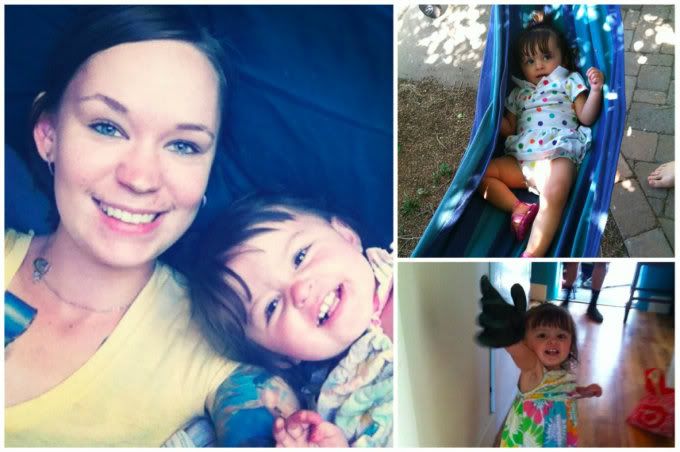 I feel:
anticipatory. Vince and I officially planned out the first 5 days of our road trip and made reservations for hostels and campgrounds so it's finally becoming real! West coast here we come!
I wish:
there was a new Grey's Anatomy. I hate that seasons have to end.
I am awaiting:
a date with my husband tonight. A supposedly amazing frozen yogurt shop just opened up and since I haven't had frozen yogurt since I was like 7 and this place is gluten free, I thought we'd check it out and plan out more of our road trip at the same time.
I am dreading:
nothing. I'm pretty content and feel like I can handle all I have on my plate at the moment. Except maybe laundry. Now that I think about it, I'm definitely dreading laundry.