__I DID IT. I finally finished this semester. I still haven't got the grades back for 2 of my finals, but I'm pretty sure I got A's in all my classes. If I didn't, I'll probably cry, but I'll get over it. I have three weeks off for 'summer break' before I start a couple online classes. They should be too hard so I'm not too worried about them cutting into my summer fun time!
__Another thing I'm probably going to do over the summer is volunteer in the ER at the hospital! I've been talking to a lady up there and just have to clear it with my boss. I think this will be an awesome opportunity because one of the choices I've considered aside from being a pediatric oncologist is an ER doc. It'll be great for me to be in the ER and see how things operate and see if it's something I'd actually like to do. I know I'll have a rotation in the ER when I'm in med school, but it's nice to get all the experience that I possibly can! I hope to be able to transfer to pediatrics of the cancer center soon when there is an opening available, though, because that's what I really want to do.
__Vince and I are going on a 2 week road trip at the end of July! He has a bike race in Hood River, OR on July 15th, so we're going to head up there quickly, and then slowly come down the west coast. My birthday is on July 16th, the day after the race, so I'll be 21 and able to go more places as we do our trip! It'll be fun to meet up with people we know in various states at go out, as well and hear music at bars I normally wouldn't be able to go to.
__I'm still running! I haven't posted anything about exercising recently, but I'm still in love with it. I'd always
prefer going on hikes
over running, but it's much more convenient to just leave my house for a run then load up the car with Roxi and drive to the trail head. I've still been doing the Jillian Michaels 30 Day Shred video as well. I know all the exercises by heart now and now what Jillian is going to say, but I still find it challenging and super fun.
__At the beginning of the year I signed up for the reading challenge on Goodreads and I opted to read 48 books, one a week. I'm currently 5 books behind and have only read 12 this year, so I'm hoping I can catch up over the next few weeks while I have no class! I'm almost done with Plain Truth by Jodi Picoult and plan on reading
The Poisonwood Bible
(Barbara Kingsolver),
A Million Little Pieces
(James Frey),
Lone Wolf
(Jodi Picoult),
I Am J
(Cris Beam), and
Gathering Blue
(Lois Lowry). OK, stop right there.
THE GIVER
IS A QUARTET?! What. The Hell. The Giver is one of my favorite books of all time and I never knew this! I've had this Gathering Blue (book 2) on my bookshelf for over a year now and never knew is was associated with The Giver. I can't wait to read it!
__I've been busy on instagram, so I shall leave you with some pictures! I'm on there as @iffyinklings if you want to follow.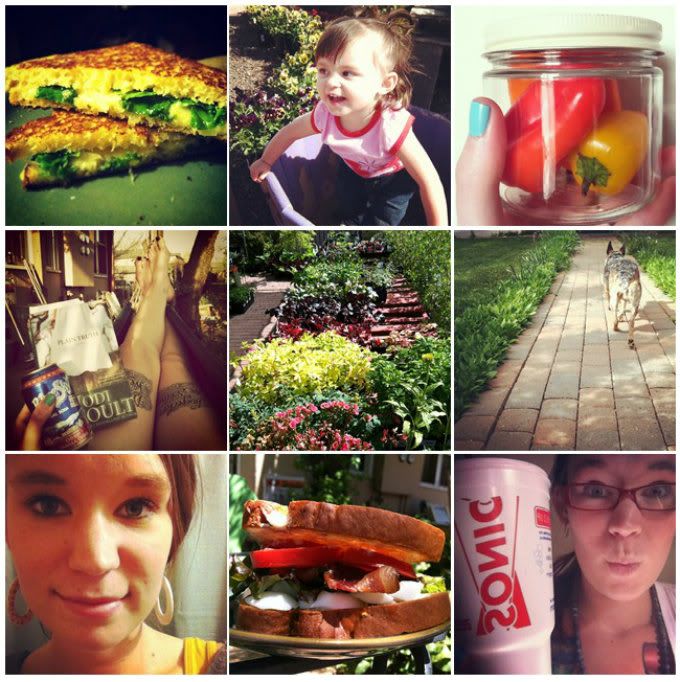 || swiss grilled cheese with spinach and red onion || my niece in a bucket at the plant store || baby bell peppers in a snack jar for class || reading Jodi Picoult and enjoying a cherry vanilla cream soda in the hammock I finally hung up || plants at the plant store || sunny afternoon with Roxi dog || face || the best BLT with a hard boiled egg and avocado on gluten free bread || strawberry limeade from Sonic - I also get a free one if I do the survey on the receipt! ||